||
When Lincoln Riley left for USC, one of the big national talking points wondered how well Brent Venables and his staff would perform on the recruiting trail.
Riley himself intimated that it was going to be easier to build a championship roster at USC.
"I've walked into 4 playoffs, and I've never had better than maybe the third-best roster (of the four teams)," Riley said. "Every other year, we were 4 of 4. We had really good rosters, but they weren't the same. … I can't imagine that there could be a setting that we could build a better roster than we can here."
Time will tell if Brent Venables and his staff can get to a College Football Playoff. But based strictly on recruiting rankings, the lie detector revealed that Riley's comment was a lie.
The Sooners have done an incredible job over the last year on the recruiting trail and have a chance to follow up their No. 4 class with another top-five group if a few things fall right. If they can build on their success on the recruiting trail in the 2022 and 2023 cycles, there's no reason the Sooners won't be national title contenders in the future.
Related
New wide receivers coach Emmett Jones making immediate impact on recruiting trail
On the latest Joel Klatt Show, the Fox Sports analyst broke down the 2023 recruiting cycle and had some positive things to say about the Sooners class. In particular, Klatt mentions that Venables is already outperforming Riley on the recruiting trail.
Oklahoma. I thought Oklahoma had a really great class. And obviously the the rankings suggest that as far as the total class, in terms of recruits and transfers number six, their best since 2021, when Caleb Williams came in. They had the the number four class in the country when it just looks at high school recruits. That's their best high school class since 2005. So, like, Brent Venables did a great job. I looked back at some of these classes that they had had high school only over the last few years and Lincoln Riley wasn't touching that, you know. 2019 I believe they had like the sixth best class in the country. They had an eight in there, but then like 10, 13, 9, 19 in 2016. So Brent Venables has done a really good job. Their first class is the best they've had in a long time. Six of their best seven recruits are either defensive players or offensive linemen. How do you get good how do you win going into the SEC, you better play good defense, you better play good on the line of scrimmage and their best player overall is their quarterback that they got Jackson Arnold. So I loved what Oklahoma did. – Klatt, The Joel Klatt Show
It took Brent Venables just one year to put together one of the best recruiting classes in Oklahoma history. It's an incredible signing class made even more incredible by the balance it has. As Klatt mentions, as the Sooners prepare to play in the SEC, they have to be good on defense and good up front on both sides of the ball.
10 of Oklahoma's four and five-stars. come on the defensive side of the football. The six offensive blue-chippers include the No. 4 quarterback, Jackson Arnold, offensive linemen Cayden Green and Joshua Bates, running back Daylan Smothers, and wide receivers Jaquaize Pettaway and Keyon Brown. With Bates, Green, Adepoju Adebawore, and Derrick LeBlanc, Oklahoma added four blue-chip players to their offensive and defensive line.
That'll have to continue or even get better to get on Alabama or Georgia's level, but it's a great start.
Perhaps the most impressive collection of players they brought in at one position is in the defensive backfield, where they added six four and five-star defensive backs.
Lincoln Riley did a good job on the recruiting trail, but his best high school class in 2019 didn't have the desired impact and definitely didn't recruit this well on defense.
They had 16 blue chip players signed to that class, eight of which were on the defensive side of the ball. Their highest-rated defensive player was ranked No. 163. That class had just three top 200 defensive players signed. In the 2023 cycle, Venables added six top 200 players on defense, four of which were top 100 signees.
Of those 16 four and five-star players in the 2019 class, only four or five had a significant impact for the Sooners; Spencer Rattler, Woodi Washington, David Ugwoegbu, Theo Wease, and Jadon Haselwood. And of those five, only Woodi Washington remains with the squad. Everyone else transferred.
Jaden Davis, Marcus Stripling, Joseph Wete, and Marcus Major are still with the squad, but have yet to take the step into stardom.
In two recruiting cycles, Brent Venables has added 33 four and five-star players to the Sooners roster, 19 of which are on the defensive side of the football.
Venables and his staff can recruit. That much has been made clear. They did a great job in the two months they had prior to 2022 national signing day putting together the No. 8 class in the nation. And did even better with a year to work with in the 2023 class. Given two years to work on the 2024 class, it's possible Venables and his staff can recreate the success from 2023 or, even better it.
And that's what it's going to take for Oklahoma to be in a position to contend with Alabama and Georgia, whether they're in the Big 12 or the SEC. With the success they've had on the trail, there should be little doubt that they can build a roster that can contend for national championships.
To steal from Riley, there may not be a setting where Oklahoma could build a better roster than they can here.
List
How Oklahoma and Texas' 2023 recruiting classes stack up with the SEC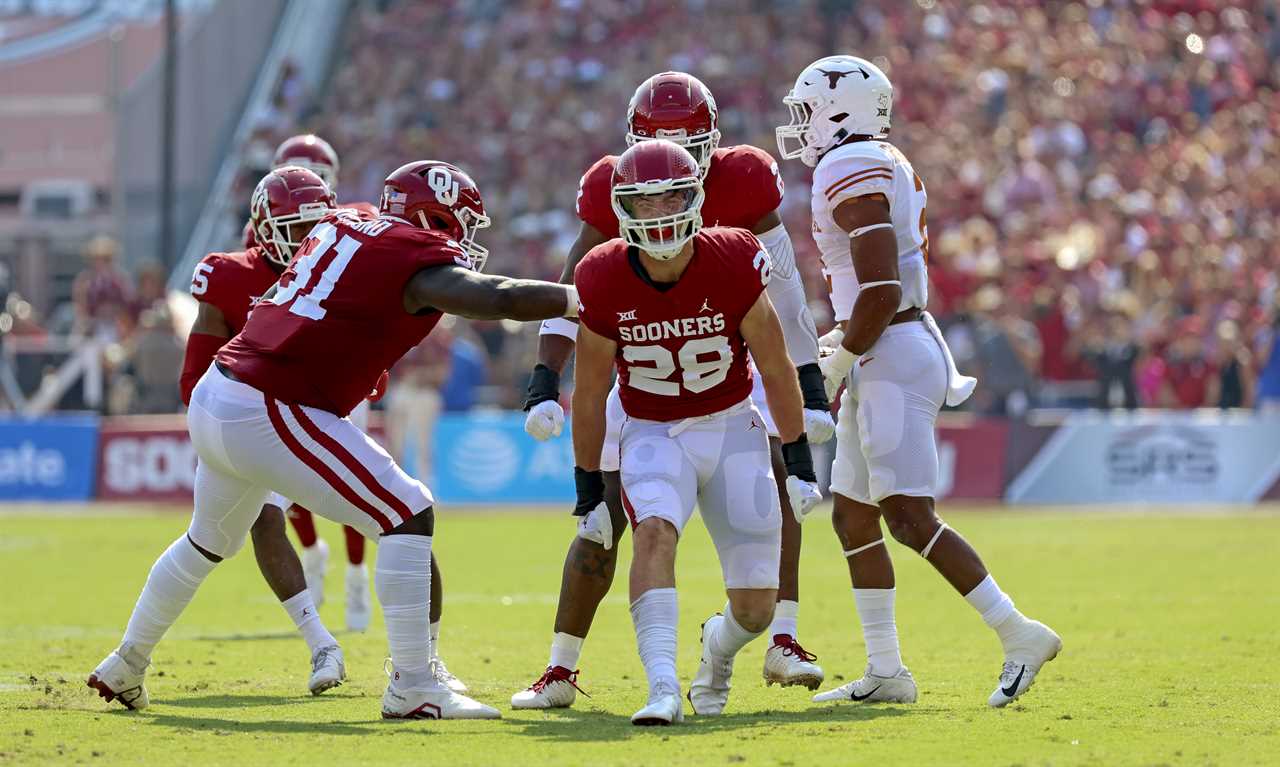 List
Oklahoma Sooners way too early game-by-game predictions for 2023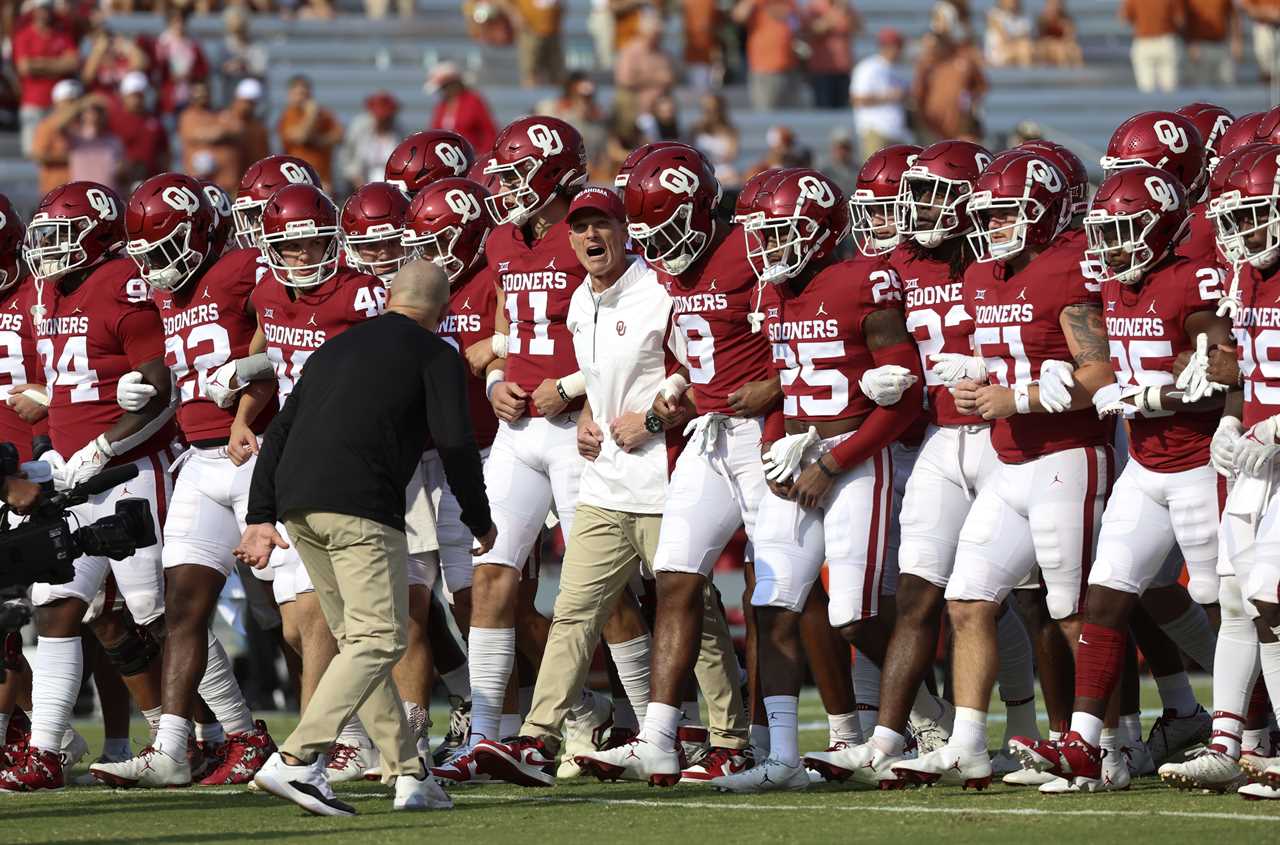 Contact/Follow us @SoonersWire on Twitter, and like our page on Facebook to follow ongoing coverage of Oklahoma news, notes, and opinions. You can also follow John on Twitter @john9williams.

||

--------------------------------

By: John Williams
Title: 'Lincoln Riley wasn't touching that': Joel Klatt dishes on Brent Venables' historic 2023 class
Sourced From: soonerswire.usatoday.com/2023/02/06/oklahoma-sooners-football-recruiting-2023-class-brent-venables-lincoln-riley-jackson-arnold/
Published Date: Mon, 06 Feb 2023 11:54:07 +0000



Did you miss our previous article...
https://playeverysport.com/college-sports/florida-ol-among-draft-wires-biggest-winners-at-2023-senior-bowl