It's hard to beat a team seven times in a row. Especially if it means beating Nathan Eovaldi twice.
The former New York Yankees pitcher started the game, and Garrett Whitlock — a Rule 5 draft pick they let leave their organization — closed it out for the Boston Red Sox in a 6-2 victory where they were underdogs at home.
The win in the American League Wild Card Game means Boston now has won eight of nine postseason games against New York since the infamous 2004 ALDS. And Kyle Schwarber, who was the Red Sox's so-called consolation prize for first baseman Anthony Rizzo who ended up going to the Yankees, homered and scored twice in the victory.
"I don't think there's many people that picked us to win in this game," Schwarber said after the game. "We all had faith in ourselves, we knew that what we were going to go out there and do tonight. We just had to execute. And we did. So we're gonna enjoy tonight."
That they should, having come to play in all aspects of the game. Eovaldi got the win thanks to some help holding it from Ryan Brasier and Tanner Houck with Hansel Robles setting up Whitlock. Not one of the five pitchers allowed a walk. They played great defense and Xander Bogaerts and Alex Verdugo paced their production at the plate.
The Red Sox advance to the American League Division Series against the Tampa Bay Rays, where they look to defy the odds once again.
"To be able to play in October, we're blessed, you know?" manager Alex Cora said after the game, where his decisions proved to pay off despite adversity. "We were lucky, and that's a great group of guys. They've been amazing throughout the process. It's been a rollercoaster."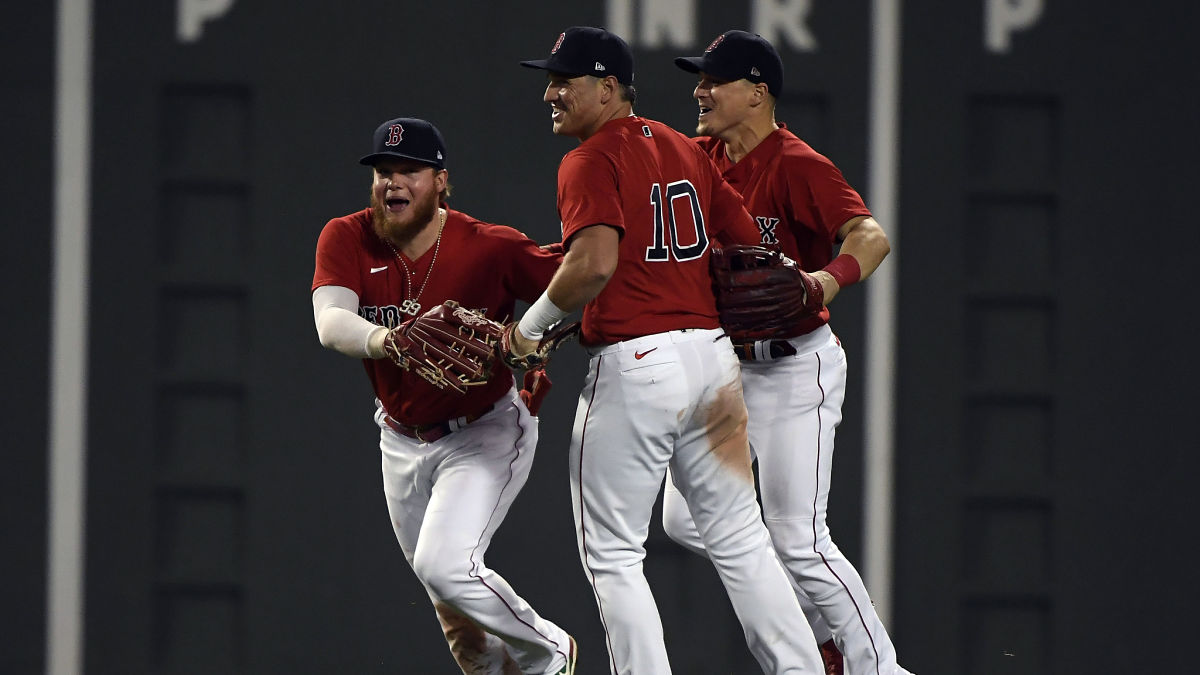 Red Sox React To 'Play Of Game' After Momentum-Shifting Defensive Highlight
Here are some other notes from the American League Wild Card Game:

— The Red Sox and Rays start a best-of-five ALDS series Thursday at Tropicana Field. It's there first postseason matchup against each other since 2013 — and we all know how that went. Of course, the Rays obviously are projected for a little bit more success than that.

— Nathan Eovaldi came out fired up, striking out eight with 54 of his 71 pitches called for strikes. He allowed four hits and a home run, but going to the bullpen ended up working out for the team.

It wasn't totally unsurprising with the way modern baseball pitching staffs are being managed. But Eovaldi was dealing and hit 99 mph. Understandably, he didn't want to come out.

"He gave me this look like, 'What are you doing?' " Cora said. "He looked at me like 'What are you doing?' But it was just such a tough game to manage."

Cora fared well.

— All-Star pitcher Gerrit Cole didn't last long at all against Boston. They laid into him early and New York saw enough after two innings, four hits, two walks, and three earned runs thanks to two homers from Xander Bogaerts and Schwarber.

"From the very first pitch the whole team had a plan," Alex Verdugo said after going 2-for-4 with three RBIs. "We went out there, hunted the fastball, got him away from it, throwing off-speed, he's erratic — and hey, that's just how you play from pitch one to the last pitch. Energy, everything, it was amazing."

— Bogaerts had struggled of late. He was accountable for that in his postgame interview on ESPN, too.

"I've continued to trust myself, because no one that expects a lot from themselves like I do," Bogaerts said.

Against New York, he was 1-for-2 with two runs and two RBI to make up for it. But perhaps bigger than his 427-foot blast in the first was a sixth inning play on defense, where Kiké Hernández played a ball off the Green Monster to the shortstop.

Bogaerts made picking off Aaron Judge at home plate look way too easy.

"That game changed right there to be honest with you. If that run scored with a guy on second base that momentum changes right there. Our outfield is one of the best."

Their manager again got to use a phrase he's thrown around a lot this season.

"We played defense," Cora said. "When we play defense, we're good."

— This game might have been over when Jerry Remy threw out the ceremonial first pitch. Just a legendary moment for a beloved Red Sox player and broadcaster that set the tone. Unfortunately, he didn't then go up to the booth.

— The crowd at Fenway Park was a force, and based on player reactions in postgame interviews, we'd be remiss not to mention it. Kevin Plawecki called it the best atmosphere he's ever experienced.

"The crowd went nuts, and you feed off that energy, you thrive for that, and Red Sox Nation brought it tonight," Schwarber added. "And we needed it. You can't say enough about the crowd tonight."

-----------------------------------------

By: Alexandra Francisco
Title: Red Sox Notes: Yankees Find It Hard To Beat Boston When It Counts
Sourced From: nesn.com/2021/10/red-sox-notes-yankees-find-it-hard-to-beat-boston-when-it-counts/
Published Date: Wed, 06 Oct 2021 04:57:57 +0000



Did you miss our previous article...
https://playeverysport.com/olympic-news/making-sense-of-stephon-gilmore-release-what-it-means-for-patriots