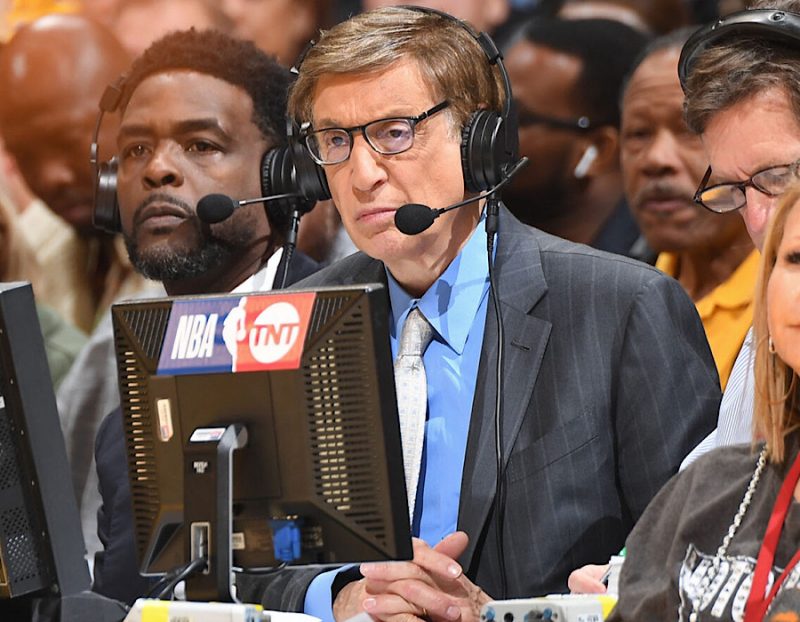 How Will You Remember The Career Of Marv Albert? | Sports Takes & News | TooAthletic.com
Click Here For Twitter Reactions
Click Next For Twitter Reactions

As the number of playoff games he has left to call continues to dwindle down, so too does the broadcasting career of Marv Albert, who announced this will be his final year calling basketball games or games of any kind in his career. As he prepares to sign off for the final time in the coming weeks, I can't help but think about all the great and memorable moments Marv Albert has been there for, as well as all those he has influenced during his career. So, how will you remember Marv Albert's broadcasting career? 
NBA announcer Marv Albert plans to retire after the 2021 Eastern Conference Finals

Legendary career

@NBAonTNT pic.twitter.com/1jCpFibkll

— Bleacher Report (@BleacherReport) May 17, 2021
This weekend saw broadcaster Marv Albert turn 80 years old. The milestone event comes less than a month after the long-time "voice of basketball" announced that this year's Eastern Conference Finals would be his last at the microphone as Albert will retiring after over a half century as a sports broadcaster.
The Brooklyn-born Marv Albert has been a part of the New York sports scene longer than he has been a national figure, calling New York Knicks game on television during their championship seasons, and through the Patrick Ewing era. Albert was also at the radio play-by-play mic when the New York Rangers won the Stanley Cup in 1994, and all the while did many Major League Baseball and National Football League games as well.
Marv Albert was once the local sports news anchor for WNBC in New York City, giving the highlights on nights when he was at MSG doing games or on the road working for the network. He also did work for the then New Jersey (now Brooklyn) Nets after a scandal saw him fired by Madison Square Garden, and then hired by TNT to continue calling basketball games.
The most vivid memory I have of Marv Albert was hearing his call when the New York Rangers captured the 1994 Stanley Cup. That year both the New York Knicks and Rangers were battling for championships, with Albert working the NBA broadcasts as well as the Rangers on the radio side. 
Of course, it is somewhat silly to try and sum up a 55-year career in one moment, but you can see his influence in many other ways. When I listen to Mike Breen of ABC/ESPN or Ian Eagle of CBS, I know that Marv's influence is with them. That's because each broadcaster knows how, and just as importantly, when to have fun, as well as when to let the game speak for itself. While Albert is known for his "YES" call when a big shot is made, Breen has his signature "BANG," a one-word call that allows him to quickly get out of the way and let the fans enjoy the moment.
Marv Albert did his first Knicks game during the final year of the Kennedy administration, making him the "voice of basketball" longer than the NBA was actually on live television. Albert's talents were not only heard by those watching basketball, and his influence is much broader than almost any broadcaster has even had.
Often imitated but never duplicated, Marv Albert will be missed by the NBA and by New York City sports fans who grew up with his voice coming out of their radios, and have been lucky enough to enjoy his skills at the microphone well into adulthood. Albert admitted when making his announcement that his career has flown by … and as someone who can't remember watching the NBA Playoffs or many other big events without him somewhere to be heard, I would agree. Marv Albert wasn't perfect off the court or away from the camera, but when it comes to doing play-by-play, there's few others who belong in the same breathe as Marv Albert. 
Click Here For Twitter Reactions
---

About TooAthletic
TooAthletic Takes is the News division of TooAthletic. Launched in 2019, TooAthletic Takes is a source for all your sports takes. TooAthletic Takes will make you laugh, cry, get mad, and even call us "idiots." We strive to give our readers another viewpoint on any sports situation, and we look forward to disagreements with the hopes that it leads to healthy discussions and debates.

TooAthletic Takes aspires to be the #1 source for all sports takes, and become a leader in sports media.

Categories

"What If" Takes

Boxing Takes

Dumb Sports Takes

Either/Or Takes

ESPN Takes

Fantasy Football Takes

Fox Sports Takes

Funny Sports Highlights

Funny Sports Takes

High School Highlights

Lists

Memes & GIFs

MLB Takes

NBA Highlights

NBA Takes

NCAA Sports Highlights

NCAA Takes

NFL Highlights

NFL Takes

NHL Takes

Predictions

Question Takes

Racing Takes

Rafael's NFL Betting Picks

Sports Gambling Takes

Sports Movie Reviews

Sports News

Sports Quotes

Survivor Pool Picks

TooAthletic Takes

UFC Takes

Voting

Worried/Not Worried About Takes

XFL Takes

How Will You Remember The Career Of Marv Albert? | TooAthletic.com

The post How Will You Remember The Career Of Marv Albert? appeared first on TOOATHLETIC TAKES.

----------------------------------------

By: Rafael Thomas
Title: How Will You Remember The Career Of Marv Albert?
Sourced From: tooathletic.com/how-will-you-remember-the-career-of-marv-albert/
Published Date: Tue, 15 Jun 2021 22:05:43 +0000



Did you miss our previous article...
https://playeverysport.com/pro-sports/arsenal-submit-40m-bid-to-seal-transfer-for-itallian-star