||

Following an entertaining 2-2 draw in Portugal, the last-16 tie is evenly poised for next week's return leg in north London.

With a towering header, William Saliba put the Premier League leaders ahead, but sluggishness from Matt Turner and Jakub Kiwior allowed Sporting to equalise.

The hosts took the lead 10 minutes after halftime through Paulinho, but Arsenal avoided defeat thanks to an own goal from Sporting's Hidemasa Morita.

Vieira, who joined Arsenal from Porto last summer, made his 12th appearance of the season at the Jose Alvalade Stadium, and Arteta was impressed.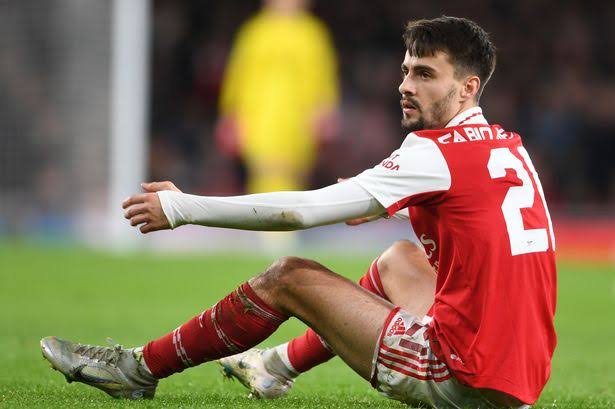 Arteta called Vieira Arsenal's "most dangerous player" on the night and believes the 22-year-old deserves more chances in the second half of the season.

'I'm very pleased with him,' Arteta said. 'I believe he deserves more minutes than he has received, particularly in the last two months.

'Obviously, he had a difficult start because he was injured for two months following surgery and wasn't performing at the level that we desired.

'However, you saw tonight that he was our most dangerous player. He was always getting things done. He's one of my favourite players.'

Arteta also praised Kiwior, who made his first Arsenal appearance since joining from Serie A side Spezia in January.

'I thought he was good; it was his first time playing, so it was a different partnership,' Arteta said.

'When you make six changes to the team, that cohesion isn't really there, and you can feel it, especially in the first few minutes of the half.

'I think the team got better and better after that. Overall, I believe he played well.'

'We had periods in the game where we were in a lot of control, but we lacked a little bit of strength in the final third because obviously we had to adjust today with the players we didn't have available,' Arteta said of Arsenal's overall performance.

'I think we conceded two very poor goals that we need to improve on and show a lot more determination to defend our box in those moments.

'At that level, away from home, it puts the tie in a really difficult position, but we were able to react. We were significantly better in the second half.'

||

----------------------------------------

By: Football Auditor
Title: Mikel Arteta fires strong Vieira message and rates Jakub Kiwior debut after disappointing Sporting Lisbon draw
Sourced From: www.footballaudit.com/mikel-arteta-fires-strong-vieira-message-and-rates-jakub-kiwior-debut-after-disappointing-sporting-lisbon-draw/
Published Date: Thu, 09 Mar 2023 22:37:10 +0000