||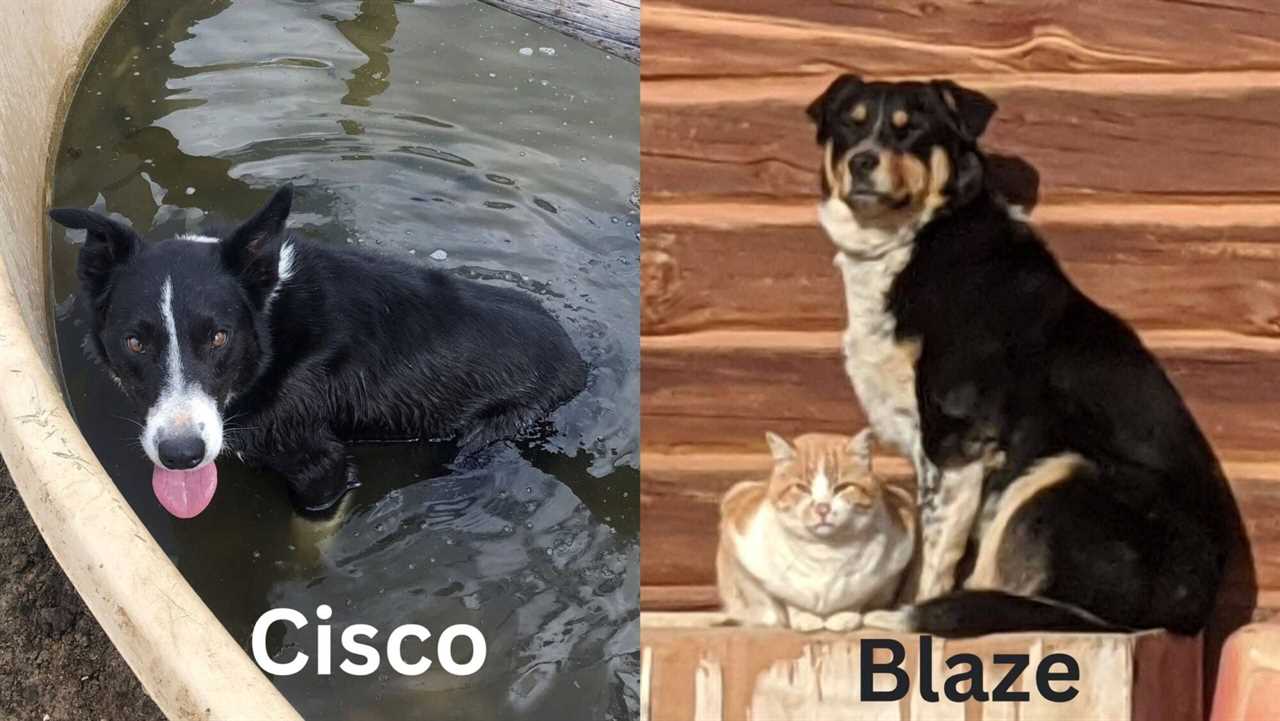 Two collared wolves from Colorado's North Park pack killed a working dog on March 13 and fatally injured a pet dog on March 14. The dogs lived on neighboring ranches located about four miles from each other in Jackson County, Colorado, the Coloradoan reports. A veterinarian euthanized the pet dog due to the injuries.
The two dogs are the first victims of the North Park pack since November 2022. They are also the 11th and 12th confirmed livestock or pet depredations in the state since the pack killed its first calf in December 2021. The North Park pack formed in June 2021 when a female from Wyoming's Snake River pack had a litter of six pups with a male she traveled into Colorado with earlier in the year, according to Colorado Parks and Wildlife.
When Wolves Kill Dogs
Greg Sykes considered Cisco, his 7-year-old border collie, "the best hired man I ever had," according to Steamboat Radio.
"I found him dead 30 yards from the house," Sykes said. "Called CPW and they came out and confirmed it was a wolf kill. Two collared wolves who were at my house at 4 a.m."
The wolves reportedly returned to Sykes' ranch around midnight on Monday before wandering to neighboring Roy Gollobith's ranch. On Tuesday morning, Gollobith saw his pet mixed-breed named Blaze standing outside with his head hanging low.
"I called him and he just turned around with this glazed looked," Gollobith told Steamboat Radio. "Then I saw blood on his throat. Sure enough he was pretty tore up."
Gollobith's wife rushed Blaze to a veterinarian in Laramie, Wyo., where the dog's injuries necessitated euthanasia.
"They said there was too much damage to his throat and abdomen to do anything, so they put him down," Gollobith said.
He recalled a time last year when Blaze got in a fight with two wolves near the house.
"He (Blaze) had it behind the front leg," Gollobith said. "The wolves turned on him and chased him back to the house. There was blood and hair out there but it wasn't Blaze's, it was the wolf's. I've seen him attack bears. He just doesn't give up."
Wolf Reintroduction Plans in Colorado
These attacks come as CPW and the U.S. Fish and Wildlife Service continue working on the gray wolf reintroduction plan. Voters passed a state law in 2020 that requires CPW develop a reintroduction plan by the end of 2023. FWS held its first public meeting in Grand Junction on March 14.

Gray wolves are currently listed as endangered in Colorado, which means ranchers can't legally kill wolves that attack their livestock. (The only instance killing a gray wolf is currently legal in Colorado is in defense of human life.) FWS has proposed a "10j rule" as part of the reintroduction, in reference to section 10j of the Endangered Species Act. This would mean the reintroduced gray wolves would be "experimental" and their status would change from "endangered" to "threatened." This would create a route for ranchers to take lethal measures to protect livestock.

According to the current draft plan, livestock owners would need permits to kill wolves as a livestock protection measure. In this case, the state would consider working dogs as livestock. But like with any wolf kill resulting from a livestock depredation, owners would need to report the kill to CPW within 24 hours and a thorough investigation would ensue. Investigators would require a "preponderance of evidence" that wolves were the culprit in order to rule the kill wolf-caused.

"After issuance of a permit, any landowner may immediately take a gray wolf in the act of attacking livestock on their private land or land that they are legally grazing using a federal land-use permit provided the landowner provides evidence of livestock, stock animals recently (less than 24 hours) wounded harassed or killed by wolves and state or federal agents are able to confirm that the animals were attacked by wolves," the draft plan reads. "The carcass of any wolf taken and the area surrounding it should not be disturbed in order to preserve physical evidence."

Read Next: How Many Wolves Should There Be in Colorado?

Livestock owners would be qualified for compensation for a working dog the same way they are if they lose a cow. That's little consolation for Sykes.

"I'm going to do everything I can to throw gasoline on this because I've been trying to be that guy that says. 'OK they're here, let's figure out how to live with them.' But now they've tied my hands," Sykes said. "If I would have went out and found this happening, I guarantee the conversation we would be having would be through a pre-paid phone card, because I would have killed the wolves. Something has to be done."

Pets and hunting dogs will not qualify for compensation, and killing a wolf that's attacking pets or hunting dogs would not be legal. This follows suit with state laws prohibiting the killing of bears and mountain lions attacking pets or hunting dogs.

The post Colorado Wolves Kill Working Dog, Fatally Injure Pet Dog on Back-to-Back Days appeared first on Outdoor Life.

Articles may contain affiliate links which enable us to share in the revenue of any purchases made.

||

-------------------------------------

By: Katie Hill
Title: Colorado Wolves Kill Working Dog, Fatally Injure Pet Dog on Back-to-Back Days
Sourced From: www.outdoorlife.com/conservation/colorado-wolves-kill-two-dogs/
Published Date: Fri, 17 Mar 2023 18:48:09 +0000


Read More
Did you miss our previous article...
https://playeverysport.com/recreational-sports/photo-of-the-day-by-charles-cormier