||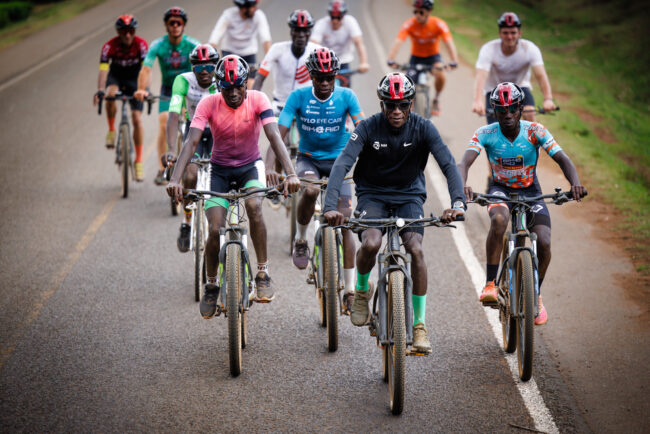 Ineos are launching a cycling academy in Kenya
Ineos Grenadiers are launching a cycling academy in Kenya to help develop sporting talent in Africa.
Ineos, the chemicals giant whose boss Jim Ratcliffe is worth an estimated £13.5 bn and stepped in to replace Sky as sponsor of the British team in 2019, will establish a cycling academy at marathon world record holder Eliud Kipchoge's Kaptagat training centre in the southwestern part of the country,
Ineos counts the Kenyan long-distance runner Kipchoge amongst its sponsored athletes. The 37-year-old became the first person in record history to run a sub-2-hour marathon, which was called the Ineos 1:59 challenge.
"There is such exciting sporting talent, passion and ambition in Africa and at Ineos we want to continue to invest to help realise its maximum potential," Ineos Chairman Sir Jim Ratcliffe said. "I visited the Kaptagat facility in Kenya recently and came away convinced that this partnership can do something truly different and unique for cycling – as well as for aspiring young African athletes."

This spring saw Eritrea's Biniam Girmay achieve a watershed moment for African cycling by winning one of the big Belgian one-day Classics at Gent Wevelgem before going on to also take a stage at the Giro d'Italia.

"This is a significant and exciting development in world cycling – it has the power to drive lasting change by developing new riders from Africa," Ineos Grenadiers boss Dave Brailsford added. "We all know the talent is there – we've seen it this year with Biniam Girmay's history-making successes at the Giro d'Italia and Gent-Wevelgem, and I saw it first-hand in the inspiring young athletes I met in Kaptagat. Their passion, dedication and love of sport is a perfect fit with the Ineos Grenadiers' spirit of giving it all to race and be your best. Together I believe we can achieve something unique and important for cycling in Kenya, Africa, and the sport itself."

||

-------------------------------------

By: Jonny Long
Title: Ineos are launching a cycling academy in Kenya
Sourced From: cyclingtips.com/2022/06/ineos-are-launching-a-cycling-academy-in-kenya/
Published Date: Wed, 22 Jun 2022 12:35:45 +0000


Read More
Did you miss our previous article...
https://playeverysport.com/recreational-sports/historic-pocket-pistols-the-worlds-first-concealed-carry-firearms