||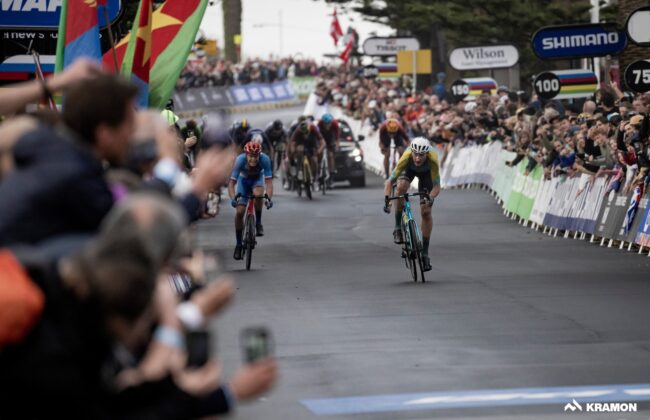 Is the men's U23 Worlds road race still fit for purpose?
Following a tactically astute race over 170 km, Yevgeniy Fedorov had just enough time to sit up and hold his hands above his head, crossing the line first to take the rainbow jersey in the men's U23 road race category at the World Championships.
A crowning achievement of his young career, and at 22 years and seven months the third oldest competitor in the race, ticking this one off just before he ages out of the category.
But it wasn't just the experience gained by a timely birthday sneaking him in under the age limit that caught the eye. Into his second season with Astana Qazaqstan, Fedorov has raced a number of WorldTour-level Classics and stage races, four Monuments and one Grand Tour. He is, in fact, the only rider in the top 10 in Wollongong that has raced a Monument or a Grand Tour.
"I knew I was in good shape after racing the Vuelta a España," said Fedorov after his win, one of only two riders on the start line who could have said that. The other, Equipo Kern Pharma's Pau Miquel, having abandoned the race on stage 11.
Of course, there is no desire to take anything away from Fedorov's deserved victory, he entered a race he was allowed to line up for and subsequently won it. But should the UCI be looking at how fit for purpose the U23 category is, given the youthful arms race currently taking place in the WorldTour peloton as every team searches for the next Tadej Pogačar or Remco Evenepoel?
The intention of different categories – elites, juniors, U23s – is to allow athletes to test their ability against competitors of a similar level, not hampering the development of up and coming riders by bunging them all in one race leaving half the field with next to no chance of seeing the pointy end of the race – or with no race at all.
After all, a top 10 at the Worlds is the sort of result that would make top teams sit up and take notice. The only issue is that of the top 10 in the 2022 men's U23 road race, eight are already racing professionally and one of the two that isn't is already a trainee at a WorldTour outfit with a two-year contract beginning in 2023.
Of those eight professionals, five race at WorldTour level. The silver and bronze podium spots were occupied by riders on ProTeams. Fifth place Olav Kooij of Jumbo-Visma has taken 11 professional wins so far this season. In the head-on shot of the finish line, you could see pro team-issue helmets, shoes and bikes. Really, all that was different was their trade jerseys had been swapped out for national colours. Surely this isn't what the U23 category is meant for. Another point of bemusement is that while Fedorov opted for the U23 road race, earlier in the week he raced the elite men's time trial competition.
Let's look at the last decade of men's U23 results. In the past 10 years the list of winners throws up a bunch of names cycling fans will be familiar with. Alexey Lutsenko, Matej Mohorič, Benoît Cosnefroy and Marc Hirschi to name a few. However, only Cosnefroy took his title when he was already racing at WorldTour level. Except for 2015's victor Kévin Ledanois, who was riding at ProTeam level for the outfit now known as Arkéa-Samsic, every other winner has been riding at Continental level when they claimed their rainbow jersey.
The top 10 of the men's U23 Worlds road race since 2012. A dash represents the rider wasn't attached to a UCI team.

An U23 world title would have undoubtedly helped these young stars secure a professional contract, even if they had scarce opportunity to wear their U23 rainbow jersey when racing. If we're looking for evidence of the so-called youthquake in professional cycling, it seems to start around 2017 when we see WorldTour-level riders begin to populate the top 10. In the five years before that, you had only a handful of ProTeam-level competitors dotted around.

So what to do? Should the UCI change the U23 category to be solely for those riding at amateur or Continental level? A potentially discriminatory alteration for those U23 riders who've developed early and gained themselves a professional contract, and leaving them with no Worlds as the elite squad gets filled by their more experienced compatriots. Although, given the choice, they would almost certainly value their spot on a pro team over a place on the start line of the U23 Worlds road race.

The other question, given that Fedorov hasn't raced an U23 since joining Astana Qazaqstan at the start of 2021, is will we see Fedorov's U23 rainbow jersey in action? That seems to be clearest indication that something is amiss. 2021's winner, the Italian Filippo Baroncini, looked resplendent in his full rainbow look in a few Italian one-day races towards the end of last season. But then 2022 came calling and a graduation from Team Colpack Ballan to Trek-Segafredo. His rainbow jersey would not be seen again.
View this post on Instagram
The U23 riders can at least be thankful that the likes of Remco Evenepoel and Biniam Girmay, both eligible to still race in the category, have opted for the bigger prize of the elite men's race. Although, maybe Evenepoel winning by five or more minutes would force the UCI into action. Another thing to be thankful for – at least the U23 men have their own race as opposed to the U23 women who will face the mind-bending task of racing for their own rainbow jersey with the elite women's event on Saturday.

||

-------------------------------------

By: Jonny Long
Title: Is the men's U23 Worlds road race still fit for purpose?
Sourced From: cyclingtips.com/2022/09/is-the-mens-u23-worlds-road-race-still-fit-for-purpose/
Published Date: Fri, 23 Sep 2022 13:59:57 +0000


Read More
Did you miss our previous article...
https://playeverysport.com/recreational-sports/grizzly-bear-mauls-9yearold-boy-on-moose-hunt-in-alaska