||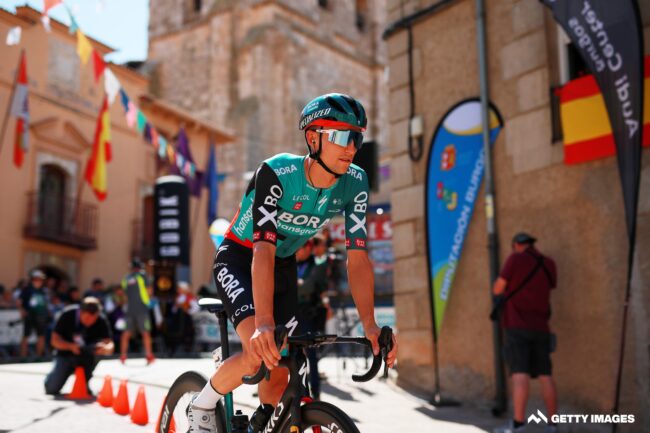 Socked centipedes on ice as Hindley eases into Vuelta and Bennett feels pressure
"We're not here to put socks on centipedes," Jai Hindley memorably said on the second rest day of the 2022 Giro d'Italia, a race he would go on to win in that final third week. "We're here to win the race. I wouldn't be here if I didn't think the team could win so we're all here to try and win the race."
Naturally, the question following time off post-Giro, followed by an Andorran altitude camp in July and seven days of preparatory Spanish racing, is whether he's come to the Vuelta a España to put socks on centipedes or not?
"I don't know," Hindley laughs. "We'll see."
Before the fight, there's good reason to be cautious. Having barely raced after a career-changing Grand Tour victory, there are many unknowns.
"It's always hard to say. You do everything you can coming into a Grand Tour to be in the best shape you can but yeah it's really hard to know until the racing kicks off and especially when you get into the mountains," he explains, while leaving open the possibility of riding as gung-ho as he was in Italy if he finds he has similar legs in Spain: "Keep that question on ice."
A Giro win has taken the pressure off for the Vuelta, but the Australian wants to back up his performance in May and is "up for the challenge". Hindley is a laid-back guy, but a Grand Tour victory under the belt has left him almost horizontal despite the stream of questions about what two Grand Tours in one season would do for his stature as a rider. The correct answer is it would be monumental but the way Hindley brushes it off you wouldn't know it.
Bora-Hansgrohe leadership is not really in question, but Hindley is fine to let the road decide once more, as it did in Italy, as to which rider the team backs in a GC bid. Should he lose time and the likes of Wilco Kelderman or Sergio Higuita find themselves in the upper echelons of the overall classification, he has no problem helping further their bid for the red jersey.
"No one in the team has a crazy ego or something like that," he says. And you believe him when he says he doesn't think the Giro win has overly impacted his day-to-day life.
"I don't think it's changed me too much," he says of the maglia rosa hanging up somewhere in his house and in the Madonna dei Ciclisti museum. "But maybe just my own personal expectation or standard has been risen. I always want to do the best I can and it's the same here."
The same can be said of his teammate, the sprinter Sam Bennett, who arrives with expectation of a different sort on his shoulders.

The 31-year-old hasn't raced a Grand Tour since 2020, where he won the Tour de France's green jersey and took stages at the Vuelta. It's been a turbulent period since then, a departure from Patrick Lefevere's Quick-Step set-up and a return to his previous home of Bora-Hansgrohe. Omission from July's Tour de France squad came as a surprise, but Bennett has a point to prove over the next three weeks and will hope to make it before the race leaves the Netherlands.

"It's nice to be back at a Grand Tour," Bennett said, who was thoughtful with his answers throughout the press conference. "What's funny is that when I was younger I felt a bit of pressure to finish them because they're quite long, quite hard, but now there's no doubt in my mind I have the strength to finish them."

But does he feel the pressure to win this Vuelta?

"I think you're right with the question there that there is a bit of pressure to win a stage, I think since 2018…whenever I [first] did a Grand Tour I've always won at least one stage, I'd like to keep that pattern. But I guess that's more pressure from myself than external pressure."

Should Bennett cross the line first this weekend, we'll no doubt be able to see the pressure instantly evaporate. Whatever will be going through his mind concerning the people who have doubted him these past couple of years, we're unlikely to hear it from the mouth of the mild-mannered Irishman.

||

-------------------------------------

By: Jonny Long
Title: Socked centipedes on ice as Hindley eases into Vuelta and Bennett feels pressure
Sourced From: cyclingtips.com/2022/08/socked-centipedes-on-ice-as-hindley-eases-into-vuelta-and-bennett-feels-pressure/
Published Date: Wed, 17 Aug 2022 15:40:46 +0000


Read More
Did you miss our previous article...
https://playeverysport.com/recreational-sports/the-best-affordable-deer-rifles