||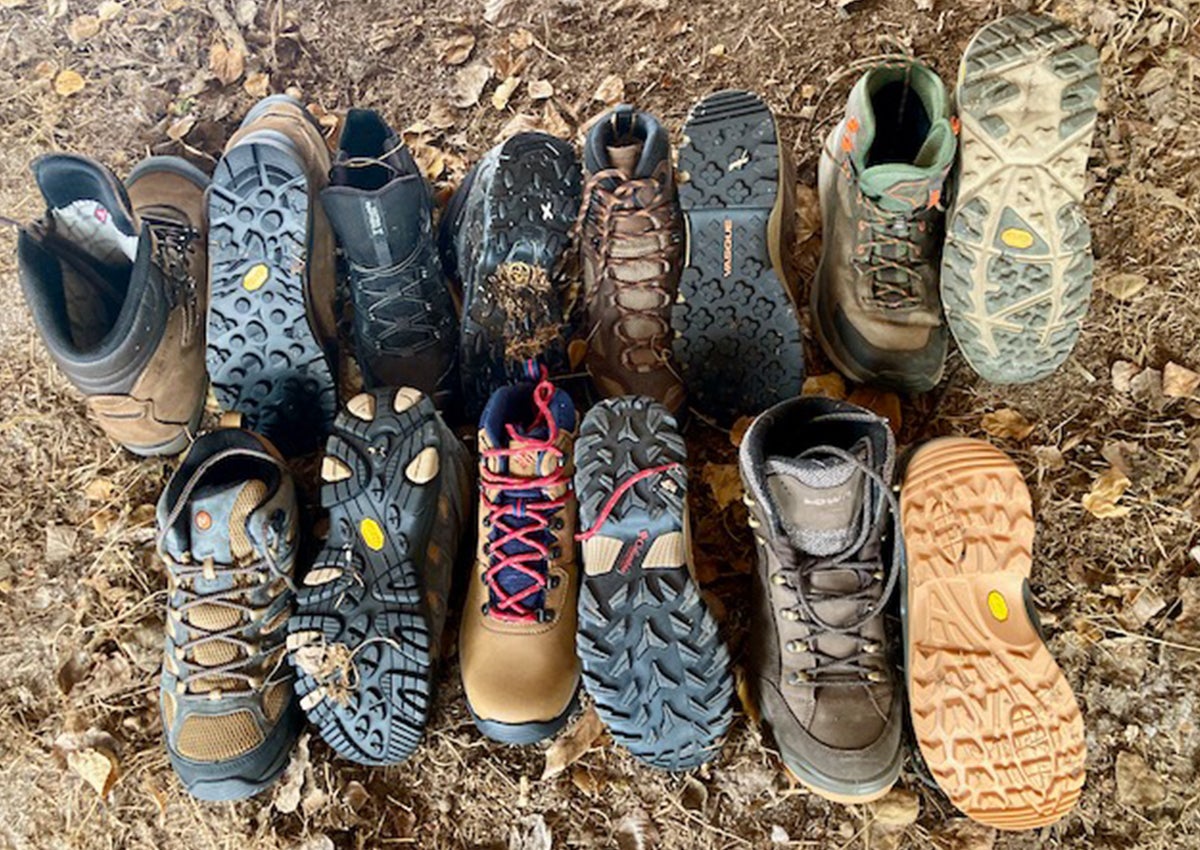 Justin La Vigne
We may earn revenue from the products available on this page and participate in affiliate programs. Learn More ›
Full disclosure: I used to be a naysayer of hiking boots. I felt they were too heavy and bulky, inevitably slowing me down. However, as I got more adventurous, my stringent viewpoint started to change. Before I set out on my thru hike of the Appalachian Trail in 2011, I narrowed in on the Merrell Moab low-cut hiking shoe as the best option for that trail. My wife wore the mid-cut height of the female version. We hiked all 2,181 miles of the Appalachian Trail in Merrells. When we set off to thru hike New Zealand's Te Araroa, my wife convinced me a mid-cut hiking boot was better suited for that trail. Another 2,000 miles later, my feet appreciated the beefier boots. 
Now that we live just outside of Denali National Park and Preserve and I work as a backcountry guide, I am a full-on convert and wear nothing but boots. The gnarly and unforgiving terrain would eat up my low-cut trail runners. Below I tested and reviewed multiple options to help you choose one of the best hiking boots for men that fits your needs.
Best Overall: Merrell Moab 3
Best for Mixed Terrain: La Sportiva Ultra Raptor ll Mid GTX
Best Budget: Columbia Newton Ridge Plus II Waterproof
Best Lightweight: Hoka Kaha GTX 2
Best Winter: Lowa Renegade Warm GTX Mid
Most Versatile: Vasque Breeze 
Best for Bushwhacking: Meindl Comfort Fit Hunter 400
Methodology
I have been a hiking shoe and trail runner guy for some time. But over the last 10 years, I almost exclusively use hiking boots (mainly mid-boots) as the rough backcountry of Alaska is no place for dinky shoes. I chose boots that have worked for me over the years and I researched the best hiking boot companies to find boots that hikers wear around the world, like Merrell and Vasque. I tested all of the boots on this list and also drew from my extensive experience with the Hoka, Merrell, Vasque, and Lowa models. I verified manufacturer claims with real-world testing. Are they truly waterproof? Do they have the best traction? Then I noted, most importantly, are they comfortable for my feet? There is no reason to continue wearing boots that cause blisters or pain when the list of quality hiking footwear is so extensive.
Best Hiking Boots for Men: Reviews & Recommendations
Best Overall: Merrell Moab 3
Key Features
Available Sizes: 7-15
Regular and wide options
Weight: 2 pounds
Price: $120
Pros
Affordable
Durable
Vibram outsole
Cons
Only mid-ankle cut
Mesh sections can get pulled
I hike all over the world and I pay attention to what gear people are using, including hiking shoes. I see Merrells crushing that trail all the time. I personally have worn several types of Merrells for well over 3,000 miles, and my go-to are the Moab series because of the comfort, stubby traction, and reliability.
The new Moab 3, launched in 2022, stepped up Merrell's game since the initial Moab debut in 2007. New features and updates include an enhanced footbed, arch support, heel reinforcement, eco-friendly materials, and a better outsole. The TC-5 Vibram outsole is made of a grippy rubber for better traction on everything from dirt to snow to slick rock. This proved true for me during a wet and muddy hike just outside of Denali National Park and Preserve where the grip kept me from slipping on the mixed terrain. Merell's Moab 3s come in non-waterproof, waterproof, and Gore-Tex waterproof.
Best for Mixed Terrain: La Sportiva Ultra Raptor ll Mid GTX 
Key Features
Available Sizes: 6-15.5
Regular and wide options
Weight: 2 pounds
Pros
Breathable
Waterproof
Thick rubber toe cap
Cons
This shoe bridges the gap between a trail runner and scrambling boot. It's ready for unexpected weather, but without added weight and bulk. The outsole has one set of raised oval-shaped lugs that grip dirt and rock, as well as another set of lugs for stability by biting into the terrain for push off. The center of the insole has a deep cup with two big lugs on the back end that act as a braking system for hard stops or descending a steep slope.
The boot is wrapped in an abrasion-resistant breathable mesh that is tough against rocks and sticks and does not allow in small debris. The toe of the boot is reinforced by a huge rubber cap that absorbs impact and tackles obstacles in the terrain. I do worry that because the rubber is not flush with the boot it could peel back over time, but it has yet to happen.
As for weather protection, the whole boot is wrapped in Gore-Tex to keep your feet dry at all times. A simple, but secure, lacing system with one eye hook keeps the boot snug. The heel does not have a pull loop, but rather a fold in the material that allows you to get a finger in to pull the boot on.
Best Budget: Columbia Newton Ridge Plus II Waterproof
Key Features
Available Sizes: 7-17
Regular and wide options
Weight: 2 pounds
Price: $100 but frequently on sale
Pros
Affordable
Waterproof
Wide range of sizes
Cons
Boots don't have to be hundreds of dollars to make the cut. I caught the Newton Ridge Plus II Waterproof on sale at $60, a steal. The lower portion is made of leather and suede, which is great for rough and rocky terrain. The upper collar and tongue is mesh, which offers breathability—albeit not a lot. These are a great three season boot but not for temps below freezing.
Columbia's Newton Ridge Plus is completely waterproof with a proprietary outsole that has a mix of multi-directional lugs perfect for gripping on loose dirt and gravel, snow, and especially for steep climbs and declines. Even though it is a mid-boot, it has ample lower ankle support thanks to the lacing system that threads through four metal triangle eyelets as well as two open top hooks along the ankle. These are a great option for beginners looking to try hiking without investing in an expensive boot or skilled hikers on a budget.
Best Lightweight: Hoka Kaha GTX 2  
Key Features
Available Sizes: 7-15
Weight: 2 pounds
Price: $240
Pros
Lightweight
High ankle support
Cushy footbed
Cons
Expensive
No wide options
These are the lightest hiking boots with a full high top (7 inches) out of all the high top boots tested. I wore the Kaha GTX for two summers of guiding in the Alaskan bush, logging about 300 miles. They have been my go-to for everything from exposed alpine tundra hikes to rocky slopes. The design of the sole has a very slight arch, which creates a rocking motion to spring my steps forward. I feel a bounce in my steps along with the enhanced cushion. Released just last year, the GTX 2 has a more plush cushion and my feet never ached or fatigued. The newest GTX also utilizes more sustainable materials, like recycled Gore-Tex textiles. These are one of the few pairs of boots that I don't feel I need to replace the insole with aftermarket versions because of the ideal shock absorption.
I tramped through wet and muddy swamps and the Gore-Tex lining kept my feet completely dry. Comprised of Vibram Megagrip, the multi-directional rubber lugs of the outsole gripped well and kept me moving forward. If there are any downsides, it's been my experience that after extensive use—especially after hiking on sharp lava rock—the outsoles do wear down faster than other boots I've tested.
Some say that the Hokas look like moon boots. Likely the extreme cushioning and oversized toe box give this impression. However, once you put on this plush boot with optimal toe splay, you might not mind a few funny looks.
Best for Winter: Lowa Renegade Warm GTX Mid 
Key Features
Available Sizes: 7.5-14
Weight: 2.4 pounds
Price: $275
Pros
No break-in needed
Insulated for warmth
Grippy outsole
Cons
Pricey
Leather needs care
If you live and/or play in the cold and snow, the Lowa Renegade Warm GTX Mid is one of the warmest hiking boots for men. The ever-so-popular Renegade GTX received a winter upgrade with an additional layer of Gore-Tex as well as added polyester insulation with wool trim around the ankle to keep you warm while hiking on ice, snow, and frozen ground. While hiking on hard packed snow in temps down to -20 degrees Fahrenheit my feet were never cold with only one pair of merino wool socks underneath.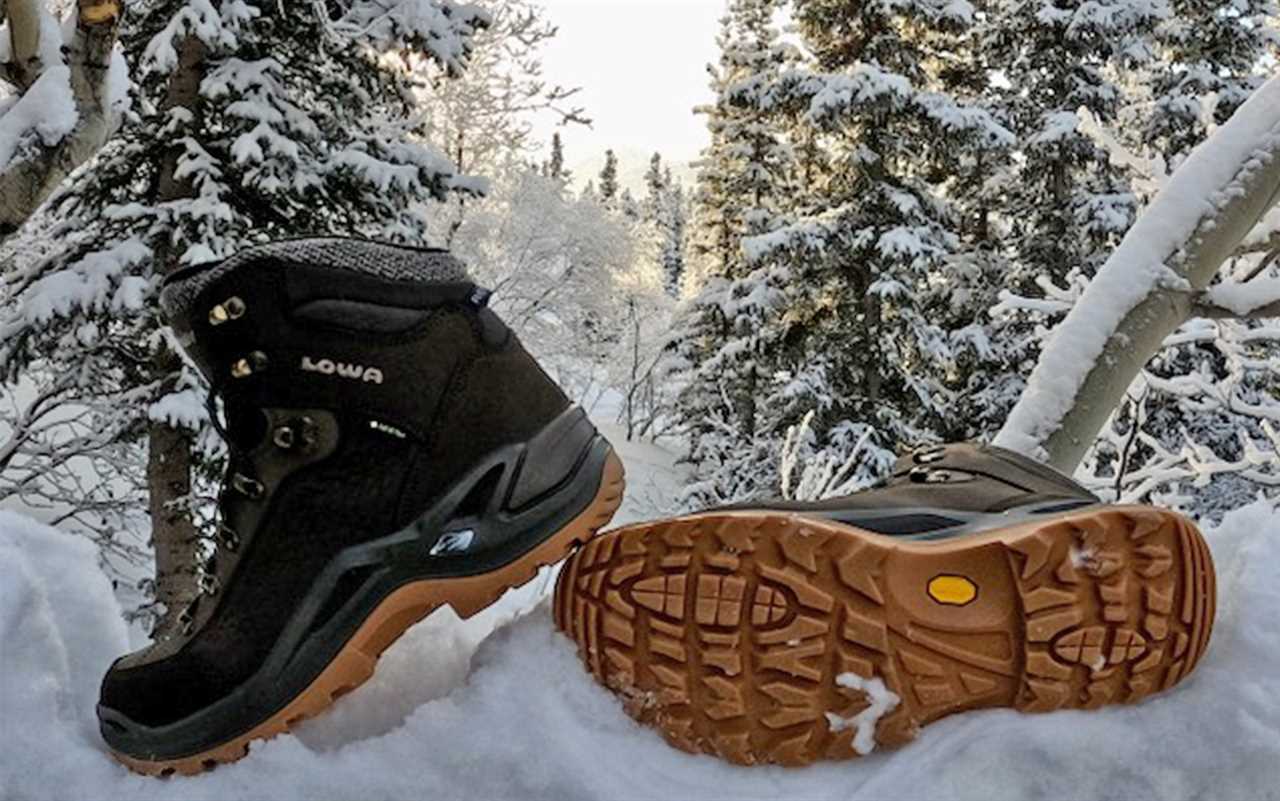 The Vibram Evo Icetrek outsole is super grippy. It operates similarly to snow tires in that it's softer, adhering better to icy or snowy surfaces, instead of stiffening in the cold. The smaller lugs also grip better, biting into the ice. The dialed-in lacing system has three hook eyelets that provide a tight fitting support around your ankle. Right out the box these were comfortable and needed no breaking in. After some time you will need to reapply waterproofing spray to the leather once you notice the water isn't shedding.
Most Versatile: Vasque Breeze
Key Features
Available Sizes: 7-14
Regular and wide options
Weight: 2.5 pounds
Price: $160
Pros
Breathable
Waterproof
7-inch ankle support
Extensive lacing system
Cons
The Breeze is a staple of the Vasque brand and a favorite among hikers and backpackers for 20 years because of its performance and affordable price. While keeping the comfort and durability of the classic boot, the new edition modernized the waterproofing with its own technique called VasqueDry, which uses 25 percent recycled materials.
The Trail Strider outsole is also proprietary to Vasque and provides traction with its thick and aggressive clover-shaped lugs dispersed all over the bottom of the boot. This versatile boot can perform in multiple terrains with a 7-inch top to keep out various debris. The upper of the boot is made of a Nubuck waterproof leather mixed with a polyester breathable mesh. All around a good boot that can last hundreds if not thousands of miles.  
Read Next: Vasque Breeze LT NTX: Don't Sacrifice Support for a Lighter Hiking Shoe
Best for Bushwhacking: Meindl Comfort Fit Hunter 400
Key Features
Available Sizes: 6-15.5
Regular and extra wide options
Weight: 4.8 pounds
Price: $350
Pros
Waterproof
Insulated
High ankle support
Cons
Bombproof. Simply as that, these boots scream for you to take them out and try to break them down. I thought for sure I would cause some damage blazing through snow and ice, over rocky and muddy mountains and traversing icy river beds. However, they stood up to my durability testing and kept my feet warm and dry. Made with a full-grain nubuck leather and wrapped in Gore-Tex from the sole to the top of the ankle, they shield away water plus deflect thick brush, sticks, and rocks.
They are not meant for your everyday warm weather hike, as they contain 400 grams of Primaloft Gold that keeps your feet insulated against cold. I wore these for a full day in deep snow with temps dipping below -25 degrees with one thin pair of merino wool socks, and my feet stayed toasty.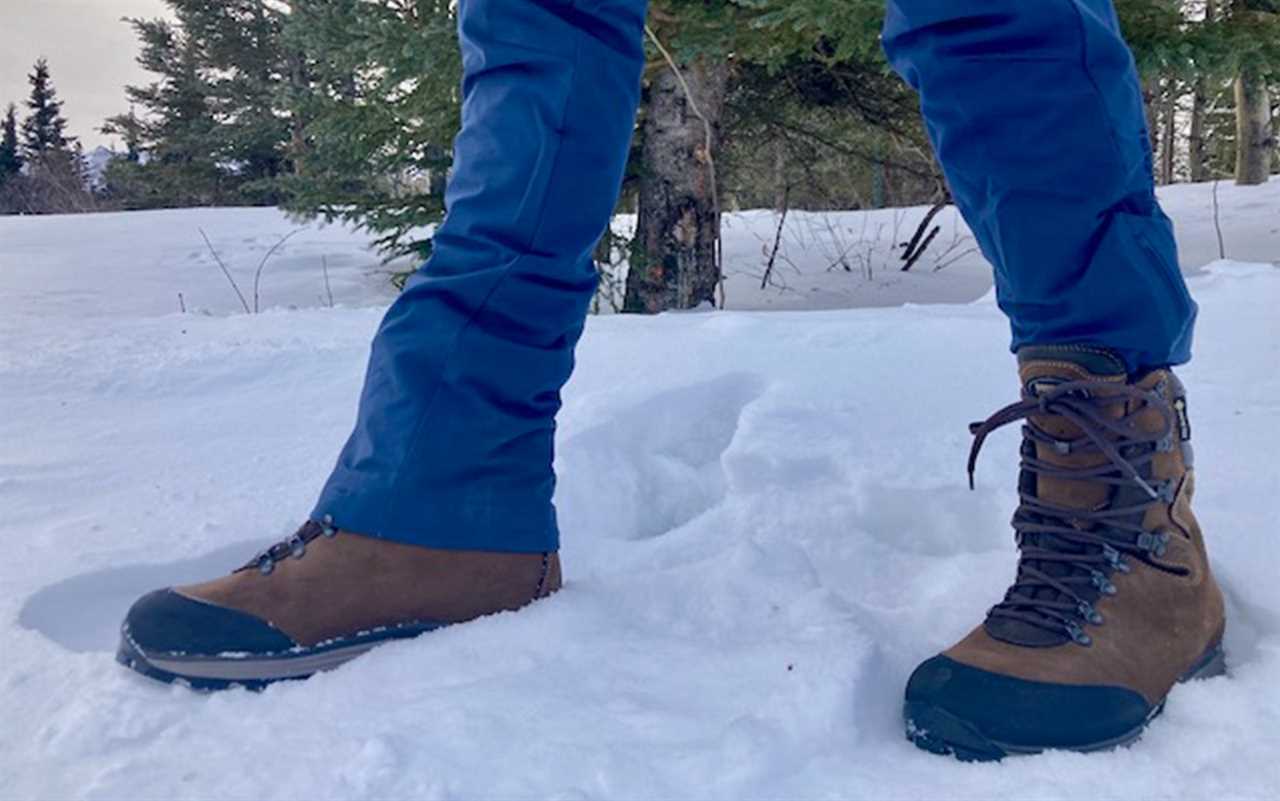 The eye hooks spanning up the boot allow you to control tightness and one hook in the middle of the tongue cinches it to your calf comfortably. This boot is the most supportive one in the test with the cuff reaching 9.25 inches up your ankle with detailed lacing keeping it snug. The footbox felt very roomy while my heel never lifted, preventing unnecessary rubbing that can cause blisters.
Meindl has partnered with Vibram for an exclusive outsole that dominates anything I tested. It is called a Multigrip 6.0 that provides technical gripping with lugs that have a cut pattern in the middle. I feel these boots—with proper care—can last a lifetime and are best suited for long hunting, backpacking, and winter trips where warmth, support, and comfort are key to keep you moving forward.
Things to Consider Before Buying the Best Hiking Boots for Men
Like anything in the outdoor world, it is all about personal preference and trial and error. There are so many options, which can get overwhelming. Use this list to find out what style might be best for you and if possible, try out the boots before committing to a purchase. Put on your loaded backpack to see how the boots handle weight. Spend time walking around and find some stairs and inclines/declines to get the true feel. Your comfort is the main key. Here are some areas to evaluate when considering which of the best hiking boots for men might be right for you.
Weight
There is no way around this, boots are going to be heavier than any trail runner or low-cut hiking shoe. Depending on the composition, height, and features, you can expect the lightest pair to be around 2 pounds, while the heaviest can top 5-6 pounds. With a heavier boot you are seeking out more support, weather protection, and the ability to carry more of a weight load, while also working a little harder.
Waterproofing
Most boots come with some sort of waterproofing, like Gore-Tex. However, there are some options, like the Merrell Moab, where you can opt out of waterproofing. If you are in areas known for foul weather or crossing rivers, having waterproof boots can be a game-changer.
Outsoles
Grippy outsoles are very important and can assist in traversing mud, dirt, rocks, ice, and snow. Though, not all outsoles are the same; check the direction and cut of the lugs as an indication of how well they will grip on different terrains. In general, thicker more spaced out lugs excel in snow and mud while thinner and closer lugs do best on loose or slick terrain.
Insoles
Most boots are made with an EVA foam insole. It is a soft material that absorbs some of the impact of your step. It sounds great in theory, but most of that foam is very thin and actually absorbs very little impact. The flimsy factory insoles break down quickly and tend to get dirty and smelly. In most cases, I upgrade my insoles with an aftermarket brand, like Superfeet. These insoles are made to better cushion and cradle your feet with zone-specific areas that offer superior support and comfort.
Stiffness
One of my early opinions about boots was that they were always stiff. But materials have progressed, and that is not always the case anymore. The upper cuff is meant to limit ankle movement, and it keeps debris, snow, and rocks from getting inside your shoes, especially when hiking off-trail. Still, a common problem with higher cuffs is shin bang. That's why testing your boot on an incline ensures your shin does not rub or bang against the front of the boot.
FAQs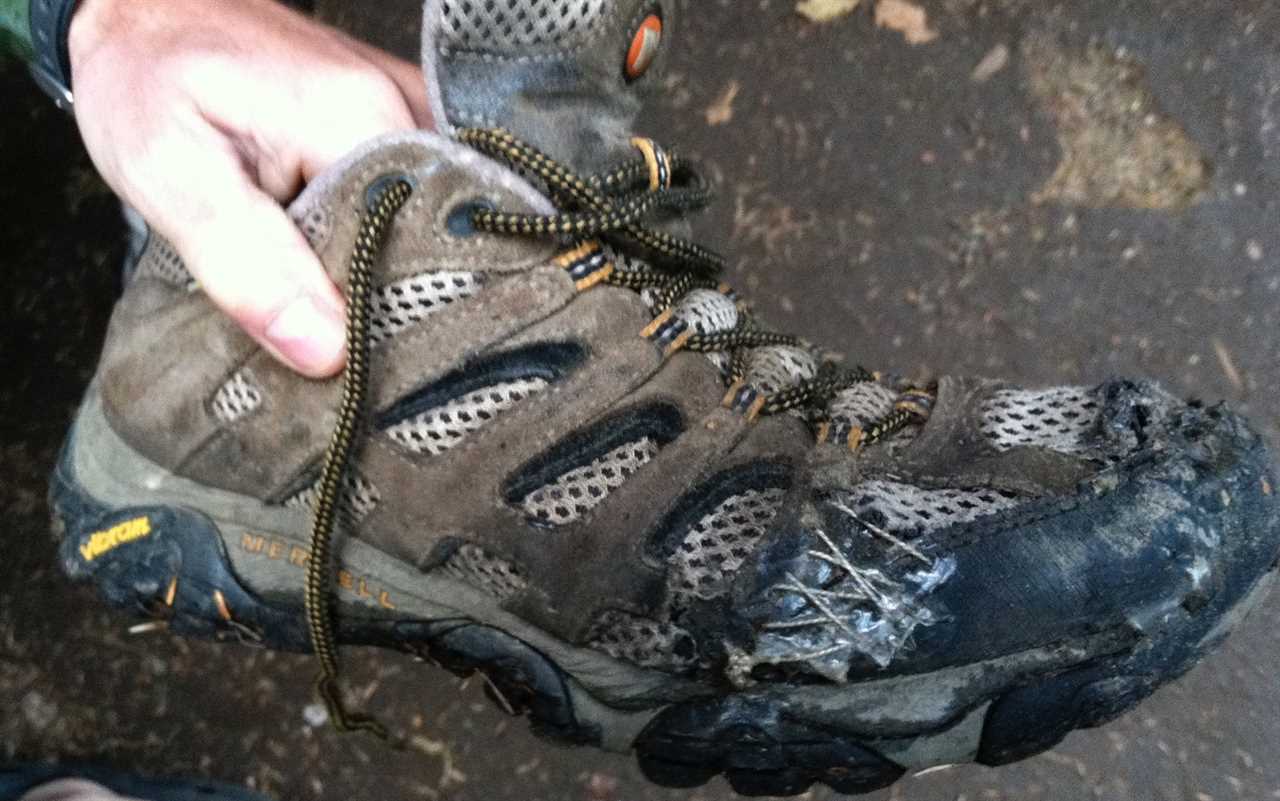 Q: How long do hiking boots last?
This is up to you based on how you care for them, how many miles you put on them, and the kind of terrain they're subjected to. Some boots can get resoled after the soles break down. In my experience, I usually need to replace my boots every 1,000-2,000 miles, depending on the terrain and how much they deteriorate. Boots like the Meindl Comfort Fit Hiker can last many years compared to the Merrell Moab, which I can get about 1,000-1,500 miles on before they need to be replaced. 
Q: Should I buy hiking boots a ½ or 1 size bigger?
Your feet tend to swell when hiking so a half size extra might be a good idea, but it depends on how much pressure and swelling you experience on the trail. Also, if you tend to wear thicker socks or even two pairs, then sizing up will give you a better fit. However, too much room can cause friction and blisters so pay attention to what your feet need.
Q: Are heavier hiking boots better?
Heavier boots are typically better for heavier loads, as they are made of thicker materials and often have more rigidity and support. These weight-adding measures can allow you to more stably carry your weight plus a heavy backpack.  
Why Trust Outdoor Life?
Since 1898, OL has been a leading authority in testing and reviewing hunting gear, fishing tackle, guns and shooting equipment, and much more. We have more than a century-long history of evaluating products, and we're now bringing that expertise to online reviews. Our editors are experienced outdoorsmen and women, and most importantly, we're trained journalists. We prioritize field testing and objective data when reviewing products. We conduct interviews with gear manufacturers and engineers as well as outdoor experts so that our readers have an understanding of how and why a product works—or doesn't.
Advertising does not influence our gear reviews and it never will. While we always focus our coverage on standout products—because we want our readers to be aware of the latest and greatest gear—we also cover the flaws and quirks of any given product.
Final Thoughts
Improper footwear can literally stop in your tracks. While managing a hiker hostel on the Appalachian Trail, I saw more people end their hikes because of improper footwear more than any other reason. As a backcountry guide in Alaska, my first conversation with my guests is how long they have hiked in their boots and how their feet feel. Throughout the trip I continue to ask them to alert me immediately at any sign of discomfort. Is there a perfect boot for you out there? Yes! But it could take some trial and error to find it. Hopefully some of my thoughts on the top brands can steer you in the right direction.

The post The Best Hiking Boots for Men of 2023, Tested and Reviewed appeared first on Outdoor Life.

Articles may contain affiliate links which enable us to share in the revenue of any purchases made.

||

-------------------------------------

By: Justin La Vigne
Title: The Best Hiking Boots for Men of 2023, Tested and Reviewed
Sourced From: www.outdoorlife.com/gear/best-hiking-boots-for-men/
Published Date: Wed, 08 Mar 2023 21:24:48 +0000


Read More
Did you miss our previous article...
https://playeverysport.com/recreational-sports/manitoba-records-its-first-two-cwdpositive-whitetail-deer