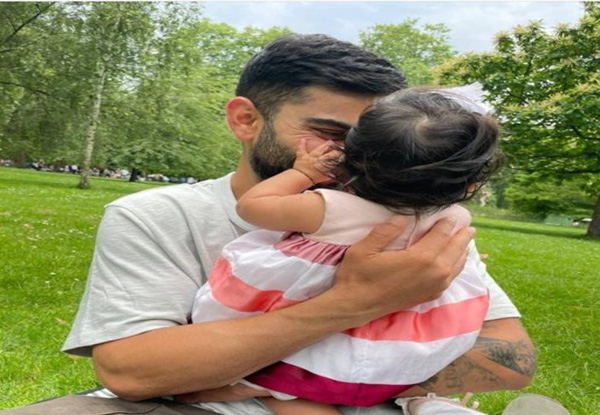 Indian captain Virat Kohli with daughter Vamika in London recently. Image: Instagram Anushka Sharma
Xtra Time Web Desk: Indian cricket team captain Virat Kohli is enjoying the break from cricket in UK with his family. Virat is accompanied by his wife and actress Anushka Sharma and their cute little daughter Vamika. Recently the first lady of Indian cricket shared an adorable picture of her daughter with Virat. Anushka also revealed that Vamika has turned six months old in the caption along with the photographs.
"Her one smile can change our whole world around ! I hope we can both live up to the love with which you look at us, little one" wrote Anuska and added: "Happy 6 months to us three".
View this post on Instagram
Anushka gave birth to daughter Vamika in January this year. Virat chose not to play the remaining three test matches against Australia Down Under to be with his wife at the time of Vamika's birth. Kohli asked for the paternity leave from the BCCI.

Meanwhile the Indian cricketers were vaccinated for COVID-19 in London. The players got their second dose of Covishield at a health centre in London. The entire squad will be assembling on July 14 before they travel to Durham for a preparatory camp ahead of the five match test series against England. The first test match of the series will start at Nottingham from August 4.

The post India tour of England: Anushka Sharma shares adorable picture of daughter Vamika with Virat first appeared on XtraTime | To get the best and exclusive sporting news, keep watching XtraTime.

----------------------------------------

By: XtraTime
Title: India tour of England: Anushka Sharma shares adorable picture of daughter Vamika with Virat
Sourced From: xtratime.in/india-tour-of-england-anushka-sharma-shares-adorable-picture-of-daughter-vamika-with-virat/
Published Date: Mon, 12 Jul 2021 07:36:41 +0000