Nike In A Fog With Giants City Connect Jerseys | Sports Takes & News | TooAthletic.com
Baseball fans finally have proof that Nike is in a Fog when it comes to designing their "City Connect" Jerseys after Monday's reveal of the San Francisco Giants new threads. The color scheme is great for something you get from an ice cream truck and I'm sure fans from the Bay Area would have loved to have something about their hometown be the centerpiece of the design other than, well, FOG. How does Nike continue to get so many of their own MLB uniform designs so wrong? 
The Giants' City Connect series jerseys



(via @MLB) pic.twitter.com/lt8ucUbRFW

— ESPN (@espn) July 5, 2021
Monday morning probably saw many San Francisco Giants fan wake up in a post 4th of July fog. That feeling wasn't helped with the team, along with Nike, releasing photos of the "City Connect" jerseys, a new alternate uniform to be worn at home on Tuesdays for the rest of the 2021 season.
While managing to incorporate the iconic Golden Gate Bridge on both the caps and jerseys, the new "City Connect" jerseys also added another element, a weather element in the form of FOG to the orange-on-white jerseys. Nike and the Giants did this by adding white spots on the images of the Golden Gate Bridge, on the team's G on the uniform's front as well as on the bottom of every player's number on the back.
Perhaps the reason why the jerseys are so bad is explained by Gavin Werner, the team's director of retail and authentication, who told ESPN:
"We wanted to strike the right balance between being a little uncomfortable and trying something new."
Yes, the time honored and well-established "New and Uncomfortable" marketing strategy, what could possibly go wrong?
If the San Francisco Giants signed off on these uniforms, and, at least at the front office level, embraced this design, then Nike does get a little bit of slack for their final product. But what I don't understand about all these City Connect jerseys is why aren't franchises involving the fans in their design or at least the selection of the final product? Would it be that difficult to throw some photos up on the team's website and social media accounts and put three or four final designs to a vote? Because for me, seeing so many less than perfect jerseys has me wondering what options were left behind during the decision making process.
Perhaps this winter Nike can let the people vote on next year's City Connect jerseys rather than rush them out into production without warning as they did for so many teams this year with less and Hall of Fame results. Perhaps, too, Major League Baseball would actually like to poll some of their fans and find how what WE want on our team's jerseys since we are the ones who are expected to fork over hundreds of dollars for one certified by the league as real, or in this case, really bad. 
---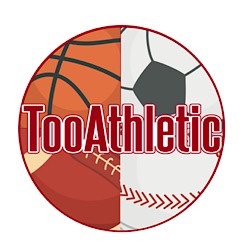 About TooAthletic
TooAthletic Takes is the News division of TooAthletic. Launched in 2019, TooAthletic Takes is a source for all your sports takes. TooAthletic Takes will make you laugh, cry, get mad, and even call us "idiots." We strive to give our readers another viewpoint on any sports situation, and we look forward to disagreements with the hopes that it leads to healthy discussions and debates.
TooAthletic Takes aspires to be the #1 source for all sports takes, and become a leader in sports media.
Categories
"What If" Takes
Boxing Takes
Dumb Sports Takes
Either/Or Takes
ESPN Takes
Fantasy Football Takes
Fox Sports Takes
Funny Sports Highlights
Funny Sports Takes
High School Highlights
Lists
Memes & GIFs
MLB Takes
NBA Highlights
NBA Takes
NCAA Sports Highlights
NCAA Takes
NFL Highlights
NFL Takes
NHL Takes
Predictions
Question Takes
Racing Takes
Rafael's NFL Betting Picks
Sports Gambling Takes
Sports Movie Reviews
Sports News
Sports Quotes
Survivor Pool Picks
TooAthletic Takes
UFC Takes
Voting
Worried/Not Worried About Takes
XFL Takes
Nike In A Fog With Giants City Connect Jerseys | TooAthletic.com
The post Nike In A Fog With Giants City Connect Jerseys appeared first on TOOATHLETIC TAKES.
----------------------------------------
By: Rafael Thomas
Title: Nike In A Fog With Giants City Connect Jerseys
Sourced From: tooathletic.com/nike-in-a-fog-with-giants-city-connect-jerseys/
Published Date: Thu, 08 Jul 2021 01:27:40 +0000