||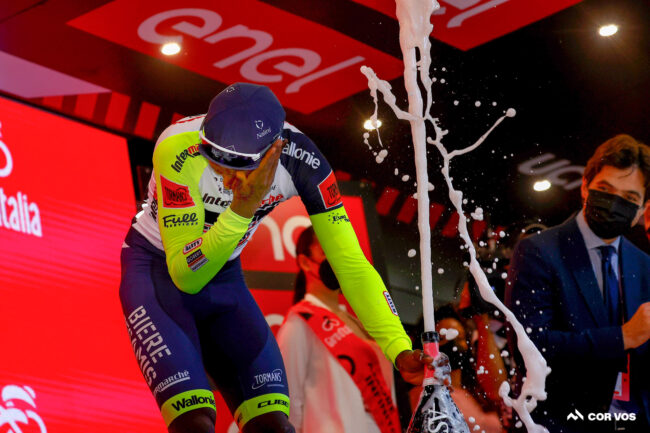 Biniam Girmay is out of the Giro d'Italia due to eye injury
Biniam Girmay, winner of stage 10 of the Giro d'Italia, has been forced to withdraw from the Giro d'Italia due to an eye injury sustained by an errant sparkling wine cork.
It caps a tumultuous 24 hours for the young Eritrean. Tuesday's stage into Jesi saw Girmay mark a historic milestone: the first Grand Tour stage win by a Black African, ever. But during post-race duties marking his win, a bottle of sponsor-correct sparkling wine popped its cork into Girmay's left eye. Girmay was unable to attend the stage winner's press conference and was taken to Jesi hospital for evaluation.
Several hours later, Girmay emerged with a large bandage over his eye. Piet Daneels, the Intermarché-Wanty-Gobert Matériaux team doctor, told Sporza that Girmay was unable to see immediately after the incident. "He had bleeding in the anterior chamber of the eye," Daneels said. "Such bleeding is not threatening to the eye itself, but it is important that this is monitored."
After being discharged from hospital Girmay was pictured celebrating with his team, raising hopes that the 22 year old would be able to continue in the race, challenging for stage wins and the maglia ciclamino points jersey.
The hero is here





@GrmayeBiniam has returned to celebrate his historic victory with his teammates

#Giro #VeniVidiBini pic.twitter.com/CfOPNxxB5S

— Intermarché-Wanty-Gobert (@IntermarcheWG) May 17, 2022
However, early on Wednesday, Girmay confirmed that he would be unable to take the start of stage 11.

"I didn't start the race because with my eye I still need some rest," Girmay said in a video message. "I'm just looking forward to the next [races this] season and thank you to everyone who supports me. I'm OK now. See you soon."

||

-------------------------------------

By: Iain Treloar
Title: Biniam Girmay is out of the Giro d'Italia due to eye injury
Sourced From: cyclingtips.com/2022/05/biniam-girmay-is-out-of-the-giro-ditalia-due-to-eye-injury/
Published Date: Wed, 18 May 2022 08:10:51 +0000


Read More
Did you miss our previous article...
https://playeverysport.com/recreational-sports/ineos-are-launching-a-cycling-academy-in-kenya