||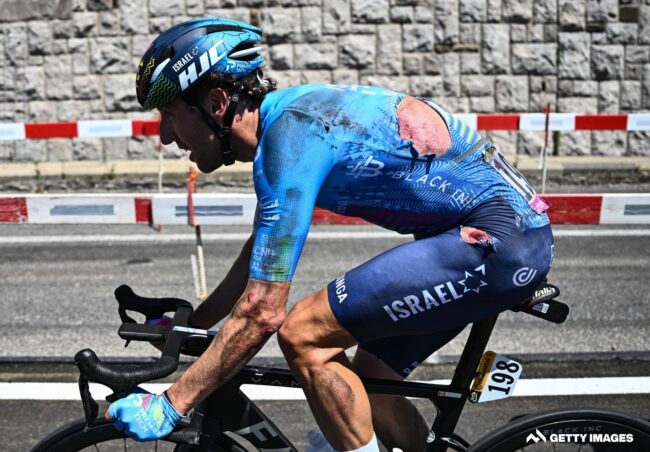 Have there been fewer crashes this Tour de France?
A question for anyone reading this. Doesn't it feel like there have been fewer massive pile-ups this Tour de France?
You know, the horrible, gasp-inducing, mid-pack flattenings that happen in an instant. Bikes and bodies strewn all over the road. A number of DNFs and then some DNSs to follow the next morning. We've waited until only a time trial and processional Champs-Élysées stage remain so as not to tempt fate and now it finally feels a safe time to discuss the matter.
While there have no doubt been crashes and teams have lost important riders, there is something to be said in the total number who will finish the race. We had 146 riders make it to Paris in 2020, 141 in 2021, and this year we should hopefully see 137 complete the race, barring any misfortune over these final two days. Although fewer will finish this year, we've got to take into account the dozen or so riders who've left the race due to COVID-19 positives.
Alongside each stage's results published each day by the race organisers is also information on riders who've received medical attention from the in-race doctor. We count just over 20 riders who've been to the medic car due to a fall over three weeks of racing. Compare this to stage 1 of both the 2020 and 2021 Tours, especially that first week in Brittany last year, where it felt like more riders hit the deck than didn't.
Maybe, outside of the oil-slick roads of Nice and the narrow, treacherous route through north-west France, the make-up of the peloton in 2022 has been a factor. With so few bunch sprints there has been less competition between fully-loaded sprint trains jostling for positions. In addition, given the GC dominance of Tadej Pogačar and Jumbo-Visma, there have been fewer squads lining up this year geared towards trying to win the yellow jersey. That also removes trains of riders wanting to be all at the front.
"I think what's made a big difference is that obviously the Tour started last year in Brittany and they were on kind of small roads, it's steep up and down," EF Education-EasyPost's Owain Doull told CyclingTips. "Those roads probably create more chaos. Whereas what we had in Denmark on the opening three stages were actually pretty calm and really good big roads. And I think the further you get into the Tour the less there are these big pile-ups because everyone kind of knows their place and only a certain number of guys are really in the GC. Some teams will lose the GC rider and then every day there's one less team trying to hold position on the front. So I think just naturally, there's less fighting."
But for Doull, too, there is an unexplainable element to the feeling of relative calm this race.
"I can't put an exact reason on why there's been less crashes," he concluded. "But fortunately for us there have been fewer."
The Welshman's sports director Charly Wegelius agrees, offering his analysis of the phenomenon.

"Definitely," he begins, to the fewer crashes question. "I don't know if you can call it a style of racing but every year everyone says it's been an extremely fast Tour and when the speed is really high the peloton is in a longer line," thereby reducing the number of riders who are near the epicentre of a fall or touch of wheels.

"It could be a coincidence but I think it can also be that ASO saw some of the things that happened last year and have done what they can to adapt things," he continued. "I mean it's obviously a struggle for them because the roads nowadays are made the way they are. Maybe it's a combination of that or maybe it's just luck. I don't know."

Not everyone agrees, however. For Fred Wright, who was witness to the chaos in Brittany last year as his first introduction to Tour racing, once again he lost his Bahrain-Victorious team leader Jack Haig to a crash, ending any GC tilt prematurely for the second year in a row.

"I mean, I'm pretty sure we've had the usual…" Wright began. "I didn't notice any difference in stress in the first week. And I remember last year once you get past the first week everyone sort of chills out, everyone's a bit more comfortable and the GC is a bit more laid out.

"At the start of this race we lost Jack on that Roubaix stage. Last year we had that one big because the Opi-Omi sign. I think that highlighted the crashes more but I think you forget Roglič is out because of a crash, Jack's out because of a crash, Ben O'Connor is out because of a crash. We've still lost GC guys. It's always the same. I think you forget how stressful the first week is every year."

The good news for the riders of the Tour de France is that there are now 11 months and three weeks until the next most stressful week of racing on the calendar.

||

-------------------------------------

By: Jonny Long
Title: Have there been fewer crashes this Tour de France?
Sourced From: cyclingtips.com/2022/07/have-there-been-fewer-crashes-this-tour-de-france/
Published Date: Sat, 23 Jul 2022 13:38:40 +0000


Read More