||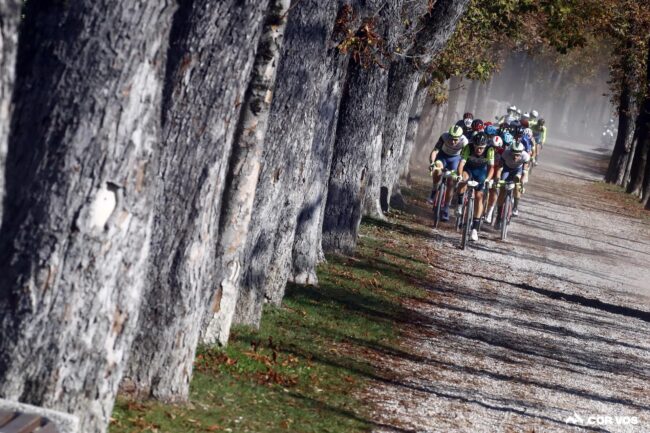 Preview: What you need to know about the first-ever Gravel Worlds
From the Road World Championships of a few weeks ago, we turn our attention now to the 2022 Gravel World Championships, held this coming weekend. Here's what you should know ahead of the action, the riders of note, and how you can tune in.
---
This is the first-ever Gravel Worlds.
Gravel racing has been around for well over a decade now (or even longer depending on who you ask) but this is the first time the discipline will have an official, UCI-sanctioned world championships.
It comes after the first season of the UCI Gravel World Series which featured a total of 11 events in locations across Australia, France, USA, Poland, Italy, Belgium, the Netherlands, Spain, Sweden, and the Philippines.
As you'd expect with rainbow jerseys on offer, Gravel Worlds is one of the biggest events on the international gravel calendar, and certainly the biggest on the UCI's gravel calendar (Unbound Gravel might still have a claim to the biggest gravel event of them all).
The inaugural Gravel Worlds is being held in the Veneto region of Italy.
Veneto is one of the 20 regions of Italy and can be found in the north-east of the country. The Gravel Worlds will be held roughly an hour west of the regional capital, Venice, with races starting in the UNESCO World Heritage Site of Vicenza, and ending in the nearby walled medieval city of Cittadella.
An aerial shot of Cittadella, courtesy of Wikimedia Commons.

Veneto isn't just hosting the inaugural edition of Gravel Worlds: next year's event will also be held in the region.

Fun fact: the organisation that's hosting these first two editions, PP Sport Events S.R.L, is helmed by none other than former road pro Filippo Pozzato.

The elite women's race will cover 140 km.

Starting in Vicenza and finishing in Cittadella, the elite women will tackle a largely flat course that should promote some fast and dynamic racing.

There are a couple of hills in the first 20 km – reaching gradients of 10% – but from there it's a mostly flat affair as the race follows the Bacchiglione River and then the Brenta River up to Cittadella.
The breakdown of road surfaces for the women's race is as follows:
32% unpaved roads
24% hard gravel
1% cobbles
10% hard surface
31% asphalt
(We're not sure what the remaining 2% are, either – this breakdown comes directly from the race organisers).
In all there's 700 metres of climbing on tap, most of it coming early on. The elite women's race will start at 12pm local time on Saturday.
The elite men will cover 194 km.
The elite men will follow the same route as the women for the first 140 km, then conclude their race with two laps of a 27 km circuit around Cittadella.
Like most of the route, that closing circuit is largely flat too, and the men will reach the finish line having climbed just 800 metres in 194 km.
The men's race comprises:
36% unpaved roads
18% hard gravel
1% cobbles
17% hard surface
27% asphalt
(Again, it's not clear what the remaining 1% is).
The elite men will set off at 11am on Sunday morning, local time.
As a quick aside, the UCI's rules for Gravel Worlds are quite interesting.
Here's a selection from the official documentation:
Gravel races can take place "on any type of unsurfaced roads and can include gravel, forest fire-roads, farm roads and tracks and cobbles."
Tarmac roads "should not total more than 40% of the race distance."
"The course should avoid grass and meadows."
"Singletrack sections should be kept to a minimum and only be included in the course where required to link other sections and only where an alternative route for essential event vehicles (for example medical services) is available."
Any style of bike is permitted, but not e-bikes.
Handlebars of any shape can be used "but must be of a one-piece construction with no bar ends or clip-on extensions allowed (triathlon handlebars and any other handlebars extension system are forbidden)."
"Mechanical assistance is not provided. Riders are advised to bring their own spare tire or tubular to the race."
Wheel changes are allowed, but bike changes are not. "The rider must finish with the frame [they] used at the start."
If you want to learn more about the technical details of Gravel Worlds, check out the event's full technical regulations document.
The racing might be a little different to what we see at American gravel races.
Unlike events like Unbound Gravel, Gravel Worlds isn't stupidly long and there isn't a massive amount of climbing. As a result we should see some fast racing this coming weekend which some are expecting might look more like road racing than gravel racing.
The racing is perhaps less likely to be attritional – rather than seeing groups of ones and twos at the finish like we do at Unbound, we might well see larger groups coming to the finish together. That's not to say we're likely to see big bunch sprints – there aren't real teams in this race like we see in road racing – but we might see big bunches together for much of the races, before things get a bit more selective towards the end.
Riders will be racing in national colours.
That's not normal in gravel racing – riders normally race in the colours of their team or in kit representing their sponsors, but as an official UCI World Championship, Gravel Worlds will see riders representing their countries.
Interestingly, riders in the elite categories must wear the official jersey of their national federation, while age group riders can have their own national jersey made, with private sponsors on it, "if it respects the colours and design of the original."
Speaking of age group riders …
It's not just elite racers taking part this weekend.
While most of the media attention will be on the elite women's and men's fields this weekend, Gravel Worlds will be a season highlight for several hundred amateur riders too.
Just like with the UCI Gran Fondo World Series, where the top 25% participants in each age group qualify for the Gran Fondo World Championships, the top 25% in each age group in the Gravel World Series events this season earned themselves a spot at Gravel Worlds. National champions automatically qualify as well, and each national federation can also enter a total of 20 riders, across all categories and both genders (or 40 for host nation Italy).
The available age groups are 19-34, 35-39, 40-44, 45-49 and so on, up to 75-79. Age group males will race over 166 km (except men 50+ who race 140 km), while age group females race over 140 km (same as the elite women).
And the elite field? That's made up of hitters across disciplines.
Any rider that's part of a UCI registered team (WorldTour, ProTeam, Continental teams on the road; or UCI-registered teams from MTB, cyclocross or track) must take part in the elite race. As we'll see below, a whole bunch of road professionals have entered by virtue of being part of a UCI team.
Riders who aren't part of a UCI-registered team but want to be part of the elite field must be nominated by their national federation. Former road pro Nathan Haas is a rider in this category. He had to contact AusCycling to get the organisation's approval to race for Australia, otherwise he would have been racing in his age group category.
A moment from the 2021 Dutch Gravel Championships, won by Demi Vollering (who isn't racing Worlds).

Some of the biggest names in road cycling will be among the contenders.

You've probably seen by now that some of the top road cyclists in the world will be in attendance on the weekend.

The elite women's field will be headlined by Pauline Ferrand-Prevot, the reigning world champion in cross country MTB (a title she's won four times), MTB short track, and MTB Marathon. Adding a gravel world title would give the Frenchwoman four world titles in one season, taking an incredible year to another level again.

She's certainly got all the skills to win. In addition to her MTB chops, you might remember that she's a former road world champion (2014) and cyclocross world champion (2015), too, so she shouldn't have any trouble on the terrain.

Other road pros taking part in the elite women's race include Australia's Tiff Cromwell (who's done a bunch of gravel races in recent years), Riejanne Markus, Rachel Neylan and Barbara Guarischi. Also on the startlist are a bunch of very strong American racers, including Lauren Stephens, Emily Newsom, Sarah Sturm, and Lauren De Crescenzo. Keep an eye on the Americans on Saturday for sure.

Former MTB short track world champ Sina Frei will also be in attendance. While the Swiss is best known for her MTBing prowess, she's done a bunch of road racing in her career so her endurance shouldn't be a problem.
View this post on Instagram
Sunday's elite men's race is headlined by none other than four-time cyclocross world champion Mathieu van der Poel. Van der Poel will be hoping he can put his horrible Australian visit behind him, and focus on a good result in what is his first ever gravel race(!). He'll be right in amongst it if his head's in the game.
Peter Sagan and long-time off-sider Daniel Oss will be there too having raced Unbound Gravel this year. And then there's a whole list of road pros that are lining up as well. Here's a bunch of names for you: Greg Van Avermaet, Gianni Vermeesch, three-time CX world champ Zdenêk Štybar, Alexey Lutsenko, new U23 road race world champion Yevgeniy Fedorov, Magnus Cort Nielsen, Davide Ballerini, Lilian Calmejane, Alessandro De Marchi, Laurence Naesen, Lachlan Morton, Sacha Modolo, Nicholas Roche, the evergreen Davide Rebellin, and even Miguel Ángel López.
Carlos Verona will be there too, having won the Ponts leg of the Gravel World Series in Spain, and as mentioned, Nathan Haas is racing as well, having won The Rift in Iceland in July. 2022 Unbound Gravel winner Ivar Silk should also be in the mix.
In Haas's words: "Safe to say, the level will be higher than anything else experienced in gravel to date. Sadly, the main-stage male riders from the USA don't seem to be making the trip over for the event, which is a huge loss as I was very interested to see how they would perform outside of their bubble and campervans. But it's a long way for them to come for a one-day race this late in the season, so I get it."
Follow the link for the full startlist.
View this post on Instagram
You'll be able to catch the action live.

It was only organised at the last minute, but it appears there'll be a live broadcast for the elite races. GCN+/Eurosport will have coverage for the last couple hours of the women's race on Saturday and the men's race on Sunday.

If you're in one of the regions where GCN+/Eurosport isn't available on this occasion (Denmark and Norway), the UCI's YouTube channel and Facebook page will apparently have the livestream.

Check out the GCN+/Eurosport and UCI sites for broadcast times.

||

-------------------------------------

By: Matt de Neef
Title: Preview: What you need to know about the first-ever Gravel Worlds
Sourced From: cyclingtips.com/2022/10/preview-what-you-need-to-know-about-the-first-ever-gravel-worlds/
Published Date: Thu, 06 Oct 2022 01:43:46 +0000


Read More